To many people the words 'flying carpet' project thoughts from the fantasy world, but to MANX they are the practical reality of producing aviation carpets that fly daily to worldwide destinations.
MANX specializes in the weaving of custom designed Wilton carpets for use in cabin interiors. Each airline is unique in its requirements but the essential properties to consider are:
CABIN AMBIANCE
MANX can produce carpets in custom colours and designs in a variety of weights and pile constructions.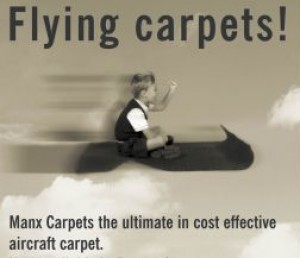 100% WOOL – The ultimate in luxury and esthetics with its rich colours and resilient pile in a general weight range of 50 oz- 60 oz per sq. yd.
70% WOOL 30% NYLON – This construction combines the luxury property of wool with the added durability of the nylon fibre. It has a general weight of 42- 46 oz per yd. without any loss in performance.

100% BCF NYLON – This specification is a durable carpet with a lower weight of 40-46 oz per sq. yd. The colours are solution dyed which gives low maintenance and extreme colour fastness coupled with the economics of weight savings.

NYLON MICRO WEIGHT CARPET – In response to the demand for the economics of weight savings on the aircraft, MANX designed its 36-39 oz weight range carpet in solution dyed BCF nylon pile. This micro weight specification couples the potential of low maintenance and longevity when subjected to the aisle traffic wear.
DIMENSIONAL STABILITY
In relation to its total weight, the woven Wilton carpet has the highest percentage of its weight in the surface pile when compared to other systems of carpet manufacturing.
Carpet dimensional stability is maintained by interweaving fire resistant, synthetic backing yarns.
MANX's synthetic warp yarns are anti mildew and anti-static.
MANX's backcoating finish has strong tuft bind and anti-fray properties that when cut leave a clean edge.
CERTIFICATION

MANX Wilton woven carpets in either 100% wool or blends of 70% wool 30% nylon meet the requirements of the Federal Aviation Administration (FAA) with regards to:

FAR 25.853 (A) - 12 Seconds Vertical Burn
FAR 25.853 (C) - Smoke Emission
BSS 7239 - Toxic Gas Production

MANX Wilton woven carpets in 100% nylon meet the requirements of the Federal Aviation Administration (FAA) with regards to:

FAR 25.853 (A) - 12 Seconds Vertical Burn

CARPET WIDTHS AND MINIMUM CUSTOM ORDERS

MANX carpets are available in the following widths:

6 ft. wide (72 in) - Minimum Custom Order – 150 sq. yds.
8 ft. wide (96 in) - Minimum Custom Order – 200 sq. yds.
12 ft. wide (144 in) - Minimum Custom Order – 300 sq. yds.

STOCK CARPET ITEMS

Some stock items are also available. Please see our samples.

Please e-mail inquiries to info@manx-inc.com for pricing and width availability